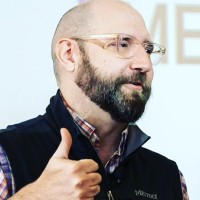 David Bland
David J Bland is an author and founder based in Silicon Valley. In 2015, he founded Precoil to help companies find product market fit using lean startup, design thinking and business model innovation. David has helped validate new products and businesses at companies such as GE, Toyota, Adobe, HP, Behr and more. David is the co-author of Testing Business Ideas, a Wiley business book with Alexander Osterwalder. Prior to advising, David spent over 10 years of his career scaling technology startups. He continues to give back to the startup community by teaching at several accelerators in Silicon Valley.

About Draper University
Draper University's mission is to inspire people and accelerate ideas by igniting the entrepreneurial spirit globally. They have 900+ alumni who have launched their own startups, raised $220+M in venture funding and who work with leading technology companies to foster innovation.

Tim Draper, legendary Silicon Valley venture capitalist founded Draper University in 2012 with a vision and belief that in order to change the world we have to change education.

Draper University aims to teach entrepreneurship globally in an entirely new way. Through hands-on training, an innovative curriculum and thought leadership Tim Draper brings together young entrepreneurs, startup founders, executives and investors all under one roof. Tim Draper has deep roots in entrepreneurship and venture capital with a rich background that started by founding Draper Associates in 1985.